Reprint Request Form

Publication Order Form



Items marked

are FREE to Minnesota parents of children and young adults with disabilities.



items are free to young adults, high school or older, with disabilities and their families.

Please limit requests for free items to 10 or less per order.
PACER Center's Bullying Prevention Project unites, engages, and educates communities nationwide to prevent bullying through creative, relevant, and interactive resources.
Web site for kids www.PACERKidsAgainstBullying.org
"Kids Against Bullying" was created for elementary school children. This Web site is an informative and creative resource to educate students about bullying prevention and provide methods to respond to bullying situations. The site features an animated cast of characters, information, celebrity videos, Webisodes, interactive games, animation, contests, and other activities. Parents and professionals will find helpful tips, intervention strategies, and resources for use at home or school.
Web site for teens www.PACERTeensAgainstBullying.org
PACER's Teens Against Bullying Web site is a relevant, edgy, and unique educational resource for bullying prevention designed to engage, empower and educate all teens. Information is presented in an innovative, engaging and interactive style. There are solutions—creative resources that all teens—can use to educate other teens and young people and to raise awareness in their community or to help other teens in bullying situations.
Booklets
Cyberbullying: What Parents Can Do to Protect Their Children
New! The internet has become a place for children to post mean and inappropriate comments about their peers. This 8-page booklet has information for parents on how to address cyberbullying with your child and what steps to take if your child is being bullied online. Downloadable for free. $2 | 10+, $1.50 each | BP-23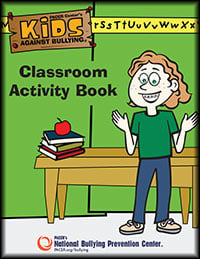 Kids Against Bullying Classroom Activity Book
Eight-page classroom activity book designed with educational activities that incorporate the KidsAgainstBullying.org website. It engages young learners in creative ways, incorporating the Club Crew cast from the Kids Against Bullying website. The content provides activities to help students think about their feelings, explore responses to bullying situations, and take the pledge to be a Kid Against Bullying. Free to download, full color or black/white. Full color print booklets available $25 for 25 copies | BP-32
Books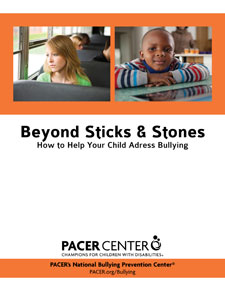 Beyond Sticks & Stones: How to Help Your Child Address Bullying
This book offers bullying prevention strategies for children at home, in school and online. It is filled with information and practical tools that can help parents and other take action against bullying. A special section of the book provides specific tips for parents of children with disabilities. 2013
$5 | BP-7 | 10+ copies, $4 each
Bullying Prevention Videos
PACER offers dozens of videos featuring Disney actors, NFL players, musicians, students from across the country, and others to help raise awareness for bullying prevention.

See all of the Bullying Prevention Videos here
Workshop/Training Curriculum
Handouts Free to Download | $1.50 per request | 10+ copies, $.50 each
Handouts - Spanish
Handouts - Somali