PACER is here to help!
Dear PACER Community,
We know these are challenging times for everyone. As we all navigate this public health crisis, PACER is committed to being a valuable resource for families of children with disabilities and students who are bullied, as well as the professionals who serve them.
Call or email us! PACER's parent advocates, assistive technology specialists, bullying prevention associates, and all staff are available to assist families and professionals. Call 952-838-9000 or email [email protected] for assistance.
View All PACER COVID-19 Resources for Families
You can continue to access PACER services in the following ways:
Check out our websites - PACER has a wide variety of tip sheets, videos, and other useful information.
Watch archived trainings - PACER has numerous recorded trainings on topics such as mental health, assistive technology, early childhood, and more.
PACER's Annual Benefit has been rescheduled for Saturday, November 14, 2020. The event will still take place at the Minneapolis Convention Center and feature a performance by Smokey Robinson.
We will continue to keep you updated in the weeks ahead. Please don't hesitate to contact us for information and resources. Take care and be safe.
Sincerely,

Paula F. Goldberg
Executive Director
Features

Distance Learning Information for Parents
Distance learning is a new reality for families across the United States. PACER Center is diligently working on providing information for parents of school-age children — both regular education and special education — who have questions about data privacy, virtual Individualized Education Program (IEP) and 504 Plan meetings, and more. We will be adding more information, so check back regularly.
---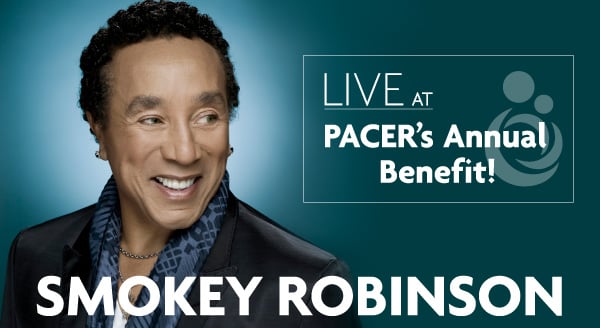 Smokey Robinson
Performing at PACER's Annual Benefit
Saturday, November 14, 2020
PACER guests will spend the evening being entertained by Motown co-founder Smokey Robinson, who has been called "the reigning genius of Top 40" and "America's greatest living songwriter." He is best known for more than 30 chart-topping hits, including "Tears of a Clown," "You've Really Got a Hold on Me," and "I Second That Emotion," all performed in his amazing high tenor voice.
This spectacular evening celebrates PACER's work on behalf of families of children with disabilities and all students who are bullied.


Unity Awards
Do you know an individual or group who took action to make our communities, schools and the web kinder, more accepting and inclusive? If yes, nominate them for a Unity Award! This spring we will then celebrate those who have made outstanding contributions to help create a world without bullying.
---

College Options for Students with Intellectual Disabilities
Explore helpful information from PACER Center and Think College about inclusive, postsecondary education programs for young adults with intellectual and developmental disabilities.
---

New Covid-19 Resources
Mental health and wellness is more important now than ever! Connect with PACER Center for resources to support your child or youth with mental health needs during this pandemic.
See Our Latest Distance Learning and Emotional Wellness Resources
---
Does My Child Have an Emotional or Behavioral Disorder?
What to Look for: Among all the dilemmas facing a parent of a child with emotional or behavioral problems, the first question-whether the child's behavior is sufficiently different to require a comprehensive evaluation by professionals-may be the most troublesome of all. Even when a child exhibits negative behaviors, members of a family may not all agree on whether the behaviors are serious.
Categories / Programs
Workshops / Live Stream Events

Jun
2
Tuesday, June 2, 2020 from 6:30 PM - 8:00 PM CST
Location: Online Web Streaming

Jun
6
Saturday, June 6, 2020 from 10:00 AM - 11:00 AM CST
Location: Online Web Streaming

Jun
9
Tuesday, June 9, 2020 from 6:30 PM - 8:00 PM CST
Location: Online Web Streaming

Jun
11
Thursday, June 11, 2020 from 2:30 PM - 3:30 PM CST
Location: Online Web Streaming
Live Streaming Available

Jun
13
Saturday, June 13, 2020 from 10:00 AM - 12:00 PM CST
Location: Online Web Streaming
Live Streaming Available

Jun
22
Monday, June 22, 2020 from 2:00 PM - 3:00 PM CST
Location: Online Web Streaming
Live Streaming Available
Help Support PACER & Others

Find equipment and assistive technology after its initial use. Items such as, communication devices, walkers, adaptive switches and toys, motorized cars (that can be adapted), adapted keyboards, etc. Join Today!
Join Survey Monkey Contribute today!
PACER is excited to announce our partnership with SurveyMonkey Contribute and a new way for anyone to support PACER programs! Sign up and you will receive surveys by e-mail from SurveyMonkey customers who need your opinion. For every survey you take, SurveyMonkey will donate $0.50 to PACER, and you'll get a chance to win $100 in an instant-win game.
In The News