Print and Digital News from PACER
Print Newsletters

PACESETTER
PACER's main newsletter; information on special education, PACER programs, and resources.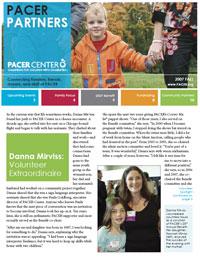 PACER Partners
Connecting families, friends, donors, and staff of PACER. Published by the Development Office at PACER.
Email Newsletters

PACER E-News
Highlights include special events and what's new.
Published monthly

Children's Mental Health and EBD E-news
It can be quite difficult to address children's mental health and emotional or behavioral issues. From multiple diagnoses and co-occurring conditions to the confusion of navigating often overlapping systems of care, it is often overwhelming for parents. PACER's goal is to provide family friendly, culturally competent resources to help parents be effective advocates for their child.
Published quarterly.

Transition and Employment Updates - Inspiring Possibilities
News updates on transition related topics.
Published frequently.
Reprints
Downloads of single copies are for your personal, noncommercial use only. For permission to reprint articles from PACER's newsletters, use the link below.