PACER Center
952-838-9000
Champions for Children with Disabilities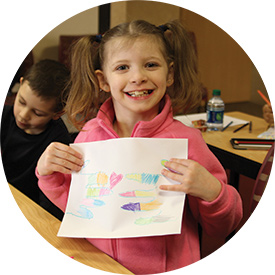 Purchase Creative Kids Cards
Isabella is the grand prize winner of PACER's 11th Annual Creative Kids Contest! (more information on the Creative Kids Contest)
Price: $10 per box
Order your cards online now!
The cards are a standard 4 ½ x 6 ¼ note card size, and include 8 cards per box with accompanying envelopes. All proceeds from the sale of the cards benefit PACER programs.
Card Front:



Card Back:

Isabella's Story:


At 8 years old, Isabella has already decided that she would like to be an artist when she grows up. In addition to her love of art, she also has a passion for science, reading, swimming and horseback riding. She is an amazing older sister to her brother Charlie, who has Autism. Her patience and caring nature with him is truly incredible. Isabella has an unspecified genetic condition that causes muscle weakness throughout her body. Although that makes it harder to do the things she loves, she never gives up. With her incredible smile and sense of humor, she is ready to take on the world!