The Unity Awards
Celebrating those creating a world without bullying!
The Unity Awards are presented by:
The Faces of Change — The Youth Advisory Boards of PACER's National Bullying Prevention Center
Bullying is an issue that no child should ever have to endure. Fortunately, there are people who care and take action to make our schools, communities, and the web kinder, more accepting places. PACER's National Bullying Prevention Center is proud to host the 6th Annual Unity Awards on Wednesday, May 27th, 2020, at PACER Center in Bloomington, Minnesota. The Unity Awards ceremony, first held in 2015, is an evening of celebration to gather and recognize those who are helping to create a world without bullying — whether it's building awareness of bullying prevention, inspiring and empowering others to take positive action, or advocating for those who need support.
Nominations come in from around the country and have included teachers who have touched the lives of students, individuals or groups who have been active in their communities, and those who simply made someone feel that they were not alone.
Everyone is welcome to nominate an individual or a group for this year's national awards:
Together Against Bullying
United for Kindness
United for Acceptance
United for Inclusion
Nominations are open until April 20th, 2020.
Additionally, The Faces of Change Awards are presented to individuals or groups making a difference in Minnesota, where PACER' National Bullying Prevention Center is located, and in the Los Angeles area, where NBPC maintains an office.
---
Youth Board Vision Statement
The Faces of Change believes that our generation has a responsibility to lead and interact with kindness, acceptance and inclusion. Our goal is to promote bullying prevention and inspire students to support one another. We are leaders who care and we will use our voices to show that student involvement can create positive change, resulting in stronger relationships, safer schools, and more supportive communities.
---
Highlights from the 2019 event!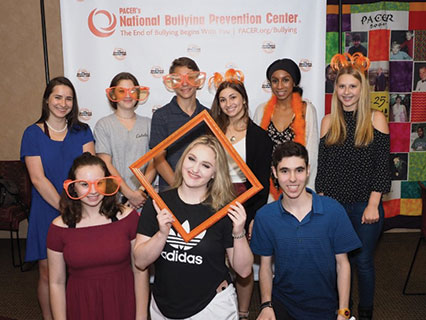 ---