In The News
Young students learn about friendship
Posted: 3/22/2017
Young students at Kilgore Primary School (KPS) in Kilgore, Texas, are being introduced to the foundations of being a good friend as a first step to understand bullying behavior.
The focus on friendship began on Unity Day 2016, an initiative led by PACER's National Bullying Prevention Center that organizes schools across the nation to address and prevent bullying. KPS counselor Gwen Black said, however, that pre-kindergarten, kindergarten, and first-grade students are too young to really understand what bullying is. What began on Unity Day has now evolved into a full year of recognizing kindness and what it means to be a good friend.
"We take [bullying] very seriously, but it could be just a little guy or girl and they don't know yet how to be a friend and they're learning their social skills," Black told the Kilgore News Herald. "We continue bully awareness, but focus on friendship skills. We reiterate that we are choosing to be kind and caring and respectful to our friends at KPS."
The students also wear orange - the color of Unity Day - to school the second Friday of each month.
Save the date for Unity Day 2017, which is Wednesday, Oct. 25.
Actor Jonathan Lipnicki opens up about his experience with bullying
Posted: 3/21/2017
Jonathan Lipnicki, who made his film debut in 1996 as Renee Zellweger's six-year-old son in Jerry Maguire, has opened up about his personal experience with bullying. Lipnicki says he was bullied in middle school and high school in response to his early success.
But Lipnicki, now 26 years old, recently recognized that he has made more movies as an adult than he did as a child. Writing about his experience on Instagram on March 13, Lipnicki said, "I hope that sharing this can shed a little light in a positive way."
In a follow-up interview with TooFab, Lipnicki revealed that he battled anxiety and depression as a result of the bullying. "All I've ever wanted to do my entire life is make movies," Lipnicki said. "To be made fun of for the thing that you love and be told you're not going to be a success is hard."
Lipnicki continues to address his anxiety with treatment and also plays basketball every day. He offered advice to others going through a similar experience: "You have to turn it into something. Whether it's arts, sports, or helping others. I think a lot of kids out there don't have a direction to go with that pain and they go inside of themselves and they suffer. It's horrible."
Lipnicki starred in the 2016 film Loserville, the cast of which partnered with PACER's National Bullying Prevention Center and spoke out in support of National Bullying Prevention Month. Lipnicki is also served as a celebrity judge for NBPC's Students with Solutions contest.
PACER's Teens Against Bullying "ASK JAMIE" Columnist Wins Prestigious Award
Posted: 3/2/2017
Congratulations to Eloise, who was recognized as a distinguished finalist in the Prudential Spirit of Community Awards for her community service work. Eloise first connected with PACER's National Bullying Prevention Center following her own experience with bullying. She interned with PACER in the summer of 2016, where she created "Ask Jamie," an advice column that offers advice and support to teens about bullying. She continues to respond to the hundreds of students that write in with questions about bullying. Special thanks to Eloise for all of her continued work on this important issue!
NBPC marks Eating Disorders Awareness Week
Posted: 2/27/2017
PACER's National Bullying Prevention Center is supporting National Eating Disorders Awareness Week 2017, which takes place Sunday, February 26 through Saturday, March 4.
Spearheaded by the National Eating Disorders Association, the goal of National Eating Disorders Awareness (#NEDAwareness) Week is to shine the spotlight on eating disorders and put life-saving resources into the hands of those in need. This year's theme is "It's Time to Talk About It."
NEDA is encouraging everyone to get screened for an eating disorder. Eating disorders have the highest mortality rate of any mental disorder and these illnesses often hide in plain sight. But recovery is possible and early intervention greatly improves the chances of success.
A three-minute screening, as well as additional resources, are available at www.nedawareness.org.
Clarisonic joins the bullying prevention cause by supporting PACER's National Bullying Prevention Center
Posted: 2/9/2017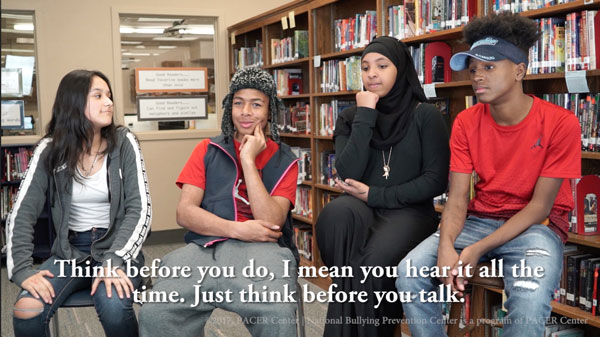 Clarisonic, the creator of the most recommended skin cleansing devices by U.S. dermatologists, was founded with the belief that healthy, beautiful-looking skin can help people be their most confident selves.
In an effort to help address bullying, Clarisonic has made a commitment to support PACER's National Bullying Prevention Center – encouraging young people to love the skin they're in, and to be confident advocates for themselves and others.
"PACER has made an incredible impact on countless kids across the country and all of us at Clarisonic are thrilled to help support its remarkable bullying prevention programs," said Dr. Robb Akridge, co-founder of Clarisonic.
Paula Goldberg, Executive Director of PACER Center shared, "The support of Clarisonic is appreciated as it allows the opportunity to reach out to a broader audience with the important message of what all of us can do to help prevent bullying."
The relationship between Clarisonic and PACER's National Bullying Prevention Center will kick off with the Students with Solutions campaign in early 2017, which engages students to use art and writing to creatively think through ways to prevent bullying and be supportive of peers being bullied. In addition, the relationship will focus on other initiatives designed to educate and provide students with information and resources to build a culture defined by kindness, acceptance, and inclusion.
Singer/songwriter Laura Michelle donating profits to PACER's NBPC
Posted: 12/27/2016
Pop singer and songwriter Laura Michelle has released a tender and serene medley of "Silent Night" and "Hallelujah" for fans just before the holiday season. Proceeds from the sale of all downloads will go to PACER's National Bullying Prevention Center.
The accompanying video for "Silent Night/Hallelujah" features personal photos of the singer taken throughout her childhood and closes with an image of her father, who died when she was 15 years old yet continues to influence her work. In less than a week, the video has amassed nearly 900,000 views.
Laura is glad to partner with PACER's National Bullying Prevention Center.
"I spent time with an amazing group of high school students and the Los Angeles associate for PACER's Bullying Prevention Center at a recent concert of mine, and it really reinforced the importance of what PACER does," she said. "I fell in love with the service that PACER provides and want to support them in every way possible."
"Silent Night/Hallelujah" delivers a message of inner strength, but with an intensity and somber earnest that is unlike her earlier work. The song is available on iTunes for $0.99.
For information about Laura Michelle, visit www.lauramichelle.com.
NBPC applauds Wisconsin school for bullying prevention initiatives
Posted: 12/15/2016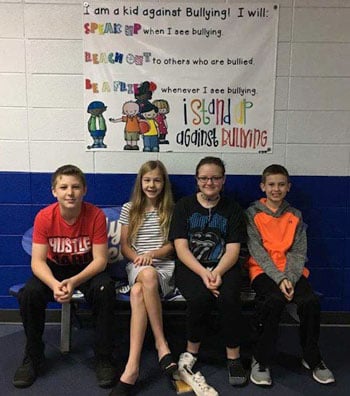 Riverview School in Silver Lake, Wisc., received a $1,000 mini-grant from the Wisconsin Department of Public Instruction to install an outdoor buddy bench. The Buddy Bench was first introduced to the school in October 2015 as part of PACER's National Bullying Prevention Month, according to an article on MyKenoshaCounty.com.
Students and faculty planned for the purchase of the Buddy Bench last November, developed an assembly for K-4 students, and planned anti-bullying activities throughout the school year.
Activities included spirit wear Friendship Fridays, a poster contest, all-school assembly on bullying prevention, a parent presentation on bullying prevention and a school-wide "Stand Up Against Bullying Pledge," provided by PACER's Kids Against Bullying website.
NBPC partners with Dell, GEN to address cyberbullying
Posted: 12/6/2016
A recent article was posted on Direct2Dell, the official Dell corporate blog, detailing a cyberbullying workshop that Dell volunteers hosted at the ninth annual We Are Girls Conference in Austin, Texas. The article was written by Ami Kane, development director for Girls Empowerment Network of Austin (GENaustin), which hosted the conference. GEN has been a long-time partner in Dell's Youth Learning program.
The workshop, titled "You're Not Alone©: Unite Together Against Cyberbullying," was run through a special partnership with PACER's National Bullying Prevention Center.
According to Kane, "When the workshop began, the facilitator, Wade Magnum, U.S. Small Business Finance Controller for Dell, asked the group of middle school girls, 'How many of you have seen or experienced cyberbullying happen?' Every hand in the room went up."
Throughout the workshop, the girls discussed what to do when they see cyberbullying; practiced empathy for the bully, a skill which would help them identify and prevent potential bullying behaviors in themselves; and proposed three top solutions to deal with bullying together:
Don't give the bully an audience
Start anti-bullying group at school
Tell a trusted adult
At the end of the session, the girls pledged a few things that they would do to help with bullying prevention. Everyone in the group wrote it on a paper leaf and took turns placing it on a Unity Tree, one of NPBC's most popular activities.
NBPC congratulates FIRST BOOK as winner of Cat in the Hat campaign
Posted: 12/6/2016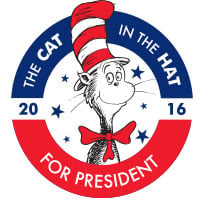 The polls have closed and all of the votes have been tallied for the presidential campaign of Dr. Seuss's beloved character, The Cat in the Hat. PACER's National Bullying Prevention Center congratulates FIRST BOOK on winning the $10,000 donation from Random House Children's Books.
The NBPC, representing kindness for all, was one of five national charities that allowed kids to vote for the cause they most wanted to support. FIRST BOOK, which represented education for all, provides new books and educational resources to children in need.
'T.E.A.M. Rudolph and the Reindeer Games,' a new toolkit for teachers
Posted: 12/1/2016
PACER is pleased to offer a new resource for teachers: "T.E.A.M. Rudolph and the Reindeer Games" (T.E.A.M. stands for Treat Everyone As Members). This free digital teacher toolkit celebrates acceptance and inclusion through teamwork.
The toolkit was created in conjunction with the release of a new picture book of the same name by Joe Troiano, who is also the author of Spookley the Square Pumpkin. The book reveals the untold story of how the Reindeer Games became a celebration of acceptance and diversity.
Educators can register online to receive the toolkit's resources, which includes streaming video of the picture book, classroom activities and a discussion guide, and streaming Rudolph music.
Purchase a print copy of T.E.A.M. RUDOPLH and a portion of the proceeds will be donated to PACER's National Bullying Prevention Center.
For information and to register for the classroom toolkit, visit the Team Rudolph site.