ORDER PRINT KIT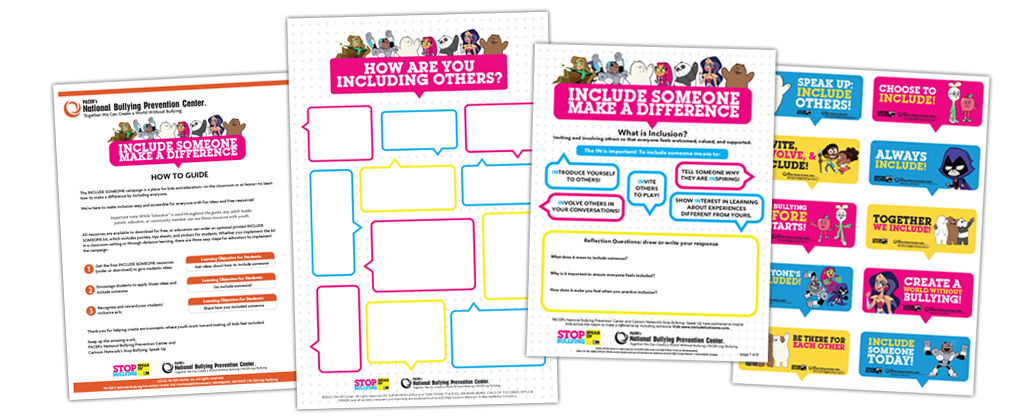 Printed kits have materials for up to 30 elementary school aged students to encourage inclusive acts.
How-to Guide: Overview of the INCLUDE SOMEONE campaign. One handout, 8 ½ x 11, 4-pages.
Student Tip Sheet: Provide students with ideas about how to include, along with their own checklist. 30 handouts, 8 ½ x 11, double-sided.
Classroom Posters: Record and display student acts of inclusion. Two posters, 24 x 36.
Stickers: Recognize students' acts of inclusion with a colorful sticker. 60 stickers total, six 8 ½ x 11 sheets with 10 durable peel-off stickers each.
Please allow 2-3 weeks from date of order for delivery
All orders are final, no refunds
Resource kits can be shipped only to U.S. addresses

ABOUT THE CAMPAIGN
Cartoon Network and PACER's National Bullying Prevention Center have partnered to inspire kids across the nation to make a difference by including someone. Cartoon Network is reaching millions of kids with a new Stop Bullying: Speak Up campaign inviting kids to speak up and share how they are making a difference in their communities by including others. PACER's National Bullying Prevention Center has created resources and materials for educators and parents to bring inclusion into the classroom and at home. Together, we are committed to creating more inclusive communities to stop bullying before it starts.