Page 1 of 1

First

Previous

Next

Last
Archived News - 2019
Posted: 10/16/2019
An article, published by PBS Teacher's Lounge, outlining helpful tips for educators to prevent bullying in the classroom, and featuring resources of PACER's National Bullying Prevention Center.
Published by PBS Teacher's Lounge.
Order the official T-shirt and sticker set to help prevent bullying!
Posted: 9/10/2019
PACER's National Bullying Prevention Center has partnered with Represent to sell our official bullying prevention t-shirt, along with an optional sticker set (10 stickers per set). All of the net proceeds help PACER's National Bullying Prevention Center continue our work to promote kindness, inclusion, and acceptance! T-shirts are available for a limited time; ordering closes at the end of October. Learn more and purchase T-shirts at: represent.com/pacer.
Is Your Child the One Bullying?
Posted: 9/3/2019
No parent likes to think their child could exhibit bullying behaviors toward a peer. Unfortunately, social pressures and the desire to be noticed and admired can lead some children to act in ways that are out of character and could have harmful consequences.
The important thing for parents who are dealing with a child who has displayed bullying behavior to remember is that they have the power to take action and try to stop the behavior from being repeated.
Bailey Huston, the coordinator of PACER's National Bullying Prevention Center spoke with the Huffington Post for the article titled, So Your Kid Bullied Someone. Now What?, about practical steps that parents can take to talk about the seriousness of bullying with their child and help them understand that behavior is unacceptable.
With empathy and patience, parents can help their child develop an action plan and set consequences that encourage them to act with kindness, acceptance, and inclusion. Huston explains that even when working toward these goals, it's important to accept that there might be setbacks as your child modifies their behavior and learns new ways to handle feelings and conflicts. Addressing these matters with patience, love, and support is the best way to ensure long-term success.
Read the complete article here.
What NOT To Say When Your Child Is Being Bullied
Posted: 9/3/2019
Knowing the right way to respond when your child says that they've been experiencing bullying can be difficult for any parent. In the past, conventional wisdom has led some parents to give their children advice that can cause more problems in the future. Responses like "just ignore it" or "toughen up" can lead to lasting negative effects for children.
In an article for the Huffington Post, Bailey Huston—the coordinator of PACER's National Bullying Prevention Center—walks through what parents should avoid saying to a child who is experiencing bullying. Rather than focus on the child's need to overpower bullying behavior on their own, Huston recommends that parents take a more supportive and proactive approach.
Children often experience negative emotions like insecurity, fear, and helplessness when they are subjected to bullying. When parents tell a child to buck up and face the bullying on their own, or that the child is being too sensitive about bullying behavior, these isolating feelings can be become overwhelming.
Huston says that the best thing parents can do for a child going through a bullying situation is assure them that they are not alone. Working with your child to develop an action plan to prevent the bullying from happening again is a concrete way to show that support and helps the child gain confidence.
5 Ways Parents Can Teach Kids to Combat Bullying
Posted: 9/3/2019
In a recent article for its Back to School Series, Mashable interviewed the director of PACER's National Bullying Prevention Center, Julie Hertzog, about how parents can help children prevent bullying at school, online, and in the community.
Hertzog explains that because bullying often happens outside of the view of adults, it's important that children understand how their responses to bullying can make a difference for someone. Parents can prepare their children to be advocates for their peers in bullying situations.
Teaching children to practice empathy and compassion at home can help them show support and kindness toward peers who may be experiencing bullying. Talk to your child about what they can do to help when they witness bullying happening. Hertzog states that it's important to teach your child safe and kind ways to intervene in a bullying situation, but also how to recognize that a situation is not safe and needs to be handled by an adult.
When it comes to bullying, the specifics can vary dramatically. In any bullying situation, your child should feel comfortable discussing the matter with you and confident in your support. That open communication can be the key to creating a world without bullying.
Check out the complete article here.
LIKE US
Posted: 8/19/2019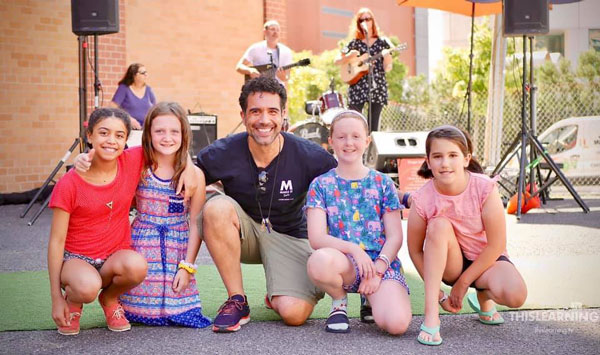 A FILM ABOUT BULLYING AWARENESS AND PREVENTION FOR STUDENTS, SCHOOLS AND FAMILIES
PACER's National Bullying Prevention is excited to support the live action short film, LIKE US, created by The Family School Association (FSA) of The Ethical Community Charter School and the FSA Performing Arts Program, together with THISLEARNING®.
LIKE US is a unique project directed by Kris Van Nest, most known for his work in television and corporate videography, as well as teaching of filmmaking/video courses in Jersey City. With Assistant Director Ann E. Wallace, Van Nest led students in 6th - 8th grade through a ten-week screenwriting process starting in September 2018. The ten student screenwriters were challenged to tell a story with an ethical dilemma at its center and include a large cast of student actors. New York casting agent Meghan Rafferty was tasked with building a diverse cast, allowing all interested students in grades 2-8 to join the project while teaching them how to prepare for an on-camera audition. Over the winter, Van Nest introduced the participating students to everything they needed to know about rehearsing and film production. Both on and off screen, students learned technical skills, such as how to hold a camera and operate sound and lighting equipment. Equally important, they were taught not to judge themselves or each other during the creative production process.
PACER's National Bullying Prevention Center is a NEDAwareness Week 2019 Collaborator
Posted: 2/26/2019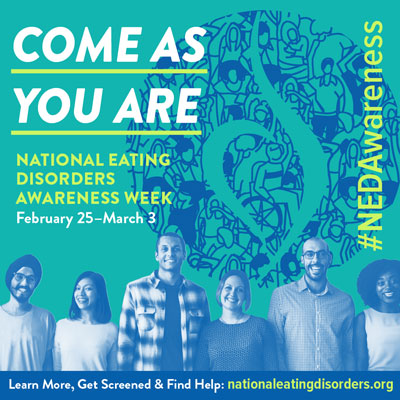 National Eating Disorder Association (NEDA), a national partner, is hosting National Eating Disorders Awareness Week (#NEDAwareness) February 25 through March 3, 2019. We are NEDA to change the conversation around body image and eating disorders! Join the movement and #ComeAsYouAre, not as you think you should be. Learn more about how you can get involved at www.nedawareness.org.
Planet Fitness and NBPC Are Helping You Flex Your "Kindness Muscles"
Posted: 2/15/2019
One of the best ways to prevent bullying in a community is to lift people up through intentional acts of kindness and inclusion. That's why Planet Fitness wanted to do something big for Random Acts of Kindness Day on Sunday, Feb. 17.
To accomplish the heavy lifting of making "random" acts of kindness more "regular," Planet Fitness is inviting its Facebook and Instagram followers to tag a friend and comment how they regularly spread kindness.
For each comment, the company will donate $5 to PACER's National Bullying Prevention Center, up to $25,000. The campaign will run from Friday, Feb. 15 – Monday, Feb. 18.
In a national study commissioned by Planet Fitness, they found that everyday kind gestures are on the decline. Their social media campaign with NBPC hopes to address this issue and encourage people of all ages to find simple ways to incorporate kindness and inclusion in their everyday lives.
Check out the official press release from Planet Fitness.
The basics of banishing bullying
Posted: 2/5/2019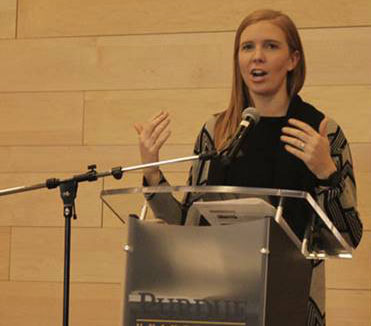 At a recent workshop in La Porte County, Indiana, Bailey Huston, coordinator of PACER's National Bullying Prevention Center, discussed the best practices of bullying prevention with nearly 100 local educators, advocates, and professionals. Huston instructed attendees on how to properly define and identify bullying, how to navigate the dynamics underlying bullying, and, most importantly, how to effectively intervene and advocate on behalf of those who experience bullying. Her presentation also covered the differences between bullying and conflict, as well as when bullying can qualify as discriminatory harassment.
Educators, school counselors, juvenile probation officers, social workers, law enforcement officers, mental health professionals, volunteer mentors, foster parents, and more came together to discuss these best practices and to share their knowledge and resources with one another. Huston made it a goal to pair her extensive knowledge of bullying prevention with their wisdom about the community—that relationship, she explains, is what paves the way for real growth.
Read the full article by staff writer, Kelly Smith, at The Michigan City Dispatch.
Order the Create a World Without Bullying Event Kit and/or 5-Poster Series
Posted: 1/3/2019
Together we can create a world without bullying! The event kit is designed so that anyone can set up a display (in the classroom, library, hallway or event) with print resources to educate and engage participants about steps each one of us can take to help prevent bullying. Each kit has materials for up to 50 participants. Kits are available for $50.
Special offer: The 5-poster series from the kit can be ordered as a stand-alone resource. These colorful, educational visuals are excellent reminders for students. The 5-poster series is available for $10.
Page 1 of 1
First
Previous
Next
Last