STC - Navigation Menu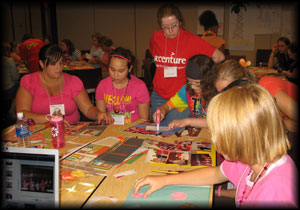 EX.I.T.E. Camp (EXploring Interests in Technology and Engineering)
About EXITE
A 5-Day Camp in August for middle school girls (6th-9th grades in the fall) with disabilities.
It's FREE, you just need transportation and a box lunch each day.
Camp runs each day from 9AM to 4PM at PACER Center in Bloomington.
Do amazing experiments, make friends that will last a lifetime, discover how science, technology, engineering and math can be cool and exciting.
Our Mission
The mission of EX.I.T.E. Camp is to empower middle school girls in the fields of math, science, and engineering. EX.I.T.E. Camp provides a safe and supported environment for hands-on learning as well as a place to meet new friends and create lasting memories.
In 2015, PACER Center collaborated with community partners for the 13th consecutive year to present a camp specifically for middle school girls with disabilities. Technology experts, scientists, and engineers from Accenture, IBM, Medtronic, Target and 3M gathered for five days in August and generously donated their talents, resources, and insight to inspire middle school girls with disabilities.
The 2015 EX.I.T.E. Camp was sponsored with generous donations from Boston Scientific, the Donaldson Company, the ECMC Foundation, Xcel Energy, and 3M Company. The 2016 EX.I.T.E. camp will bring similar experiences.
Please contact Meghan Kunz at 952-838-9000 or stc@pacer.org for more information or questions about this program.
---
Registration Closed
Check back in the spring for next year's application forms.